Product design is the construction of a product that takes into account the following factors at the concept stage: mould or die manufacturability, product durability and strength, functional reliability, processing method and cost, and so on. The final product should have a good strength-to-weight ratio, which will allow for cost savings without sacrificing quality. Many iterations of product design are carried out before the final product is built, using 3D models and technical analysis to arrive at an optimal design. A good product design is required for a good mould or die design.
VDA Technologies CAD-CAM Solutions provides a fully integrated proof-of-concept centre to assist our customers with CNC machining services. In order to meet the criteria of CNC machining services, customer-specific tools are considered an extension of assistance. This also allows us to validate tool, fixture, die, or mould designs, ensuring our customers' individual design and maintaining the reliability of our entire CAD-CAM services package.
2D Wireframe
3D Wireframe
Solid Modeling
Surface Modeling
2D Tool Path
3D Tool Path
Mold Design & Development
Our Design Department employs highly skilled Engineers capable of using the most advanced modelling software. Our CAD/CAM  software enable us to machine the details of the tool directly from the design data. This not only reduces the lead time of mould parts manufacturing but the potential for human error is also greatly reduced. We accept file formats which include,  Parasolids, and STEP files.
Design Profile:
Engineering assistance for product design.
Manufacturing feasibility assistance.
Prototyping services.
Mold flow & mold cooling analysis.
Design optimization for enhanced mould life.
CNC Programming & CNC Machining
CAD drawings, and 3-D solid modelling are some of the cutting-edge technologies and methodologies we use. We use computer-aided manufacturing, production, materials selection, and applications at various stages of project development. Adopting specialised processes for various phases of production allows us to share our knowledge with our clients, allowing them to create products that increase overall process efficiency. Our services, which are aimed at streamlining processes and other company operations, are popular in a variety of industries.
CNC Machines
We have a setup consisting of CAD/CAM software along with Machining facilities with Three VMC
1-Esteem 600 X 400 X400,
2-Pinnacle 1200 x 600 x 600
3-Chevalier 450 X 350 X 380 With 4th Axis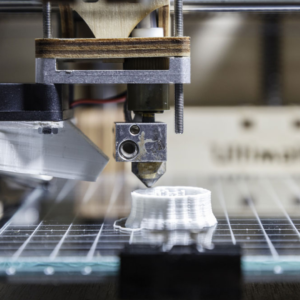 Rapid prototyping makes reference to a class of 3D printing techniques that work by rapidly creating 3D models to scale from Computer Assisted Design (CAD) files using fast fabrication or assembly technologies.
Rapid Prototyping Services uses Fused Deposition Modeling (FDM) and other rapid prototyping techniques on large industrial 3D printers to bring your CAD files and design ideas to life. We specialise in prototypes, low-volume production parts, tooling, fixturing, and other services using cutting-edge rapid prototyping technology that keeps costs low and output quality high